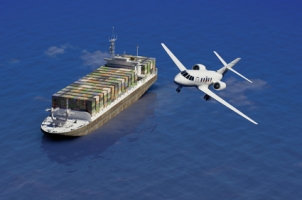 Whether you are importing or exporting goods across the ocean, you will have to, at some point, decide how you want product to get from point A to point B. Before you decide, consider the following three factors:
Cost
With your budget and bottom line in mind, you may immediately opt for ocean transport, as it is typically less expensive than shipping via air. But… it's important to understand how carriers determine their charges.
Airlines calculate transport rates by "chargeable weight," which is a combination of a shipment's size and weight. Sea carriers prefer charge "per container" rates. If you are shipping less than a full container load, the carrier will likely base your rate on cubic meters. With this in mind, is makes money sense to ship large, heavy shipments by sea.  But for smaller quantities, the difference between air and ocean transport prices is less evident.
Whatever method of transport you choose, remember that you will have customs and destination fees as well. And sea freight tends to be cheaper than air, the warehousing fees at seaports can easily be higher than those at airports.
Speed
Air freight is faster than ocean. Needing product quickly means that it sometimes makes sense to spend more to fly cargo when you're dealing with those "time is money" scenarios. That being stated, ships are getting faster all the time. Shorter shipping routes mean that ocean freight can cross the ocean in as few as eight days.
Walker World Trade has established relationships with suppliers and freight companies around the world. We can help you determine reasonable routes and lead times for your international shipments—whether you're on the sending or receiving end.
The Environment
Cost and lead time are obviously important to trading companies. But have you considered the environmental impact of your decision to choose air or ocean freight? For the most part, ocean transport leaves a smaller carbon footprint than its air equivalent. Carbon-dioxide emissions are greater for airplanes than for planes. However, ocean freight does impact water ecosystems and presents the possibility of harmful oil spills.
There are pros and cons to both freight options. Walker World Trade can help you examine the above factors and determine what transport method best fits your overall needs.
Contact Walker World Trade to get expert assistance with all of your international shipping needs.