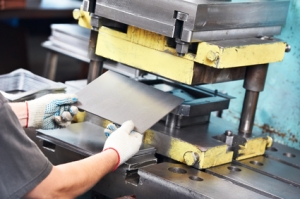 Materials made by means of metal stamping are fabricated from flat sheets of metal in either blank or coil forms that are placed into a stamping press. A tool and die surface then forms the steel into a shape.
There are many different sheet metal forming methods, such as punch pressing or stamping, blanking, embossing, bending, flanging, and coining. These processes can be fabricated in a single stage or in several successive fabricating stages.
The process of metal stampings is usually performed on cold metal sheets, whereas forging is a hot metal forming process.
Metal Stamping Processes
Various metals have unique qualities that would make each metal the "right" metal for a specific product. It is possible that certain products that are candidates for metal stamping may require the forming and processing of base common metals into rare alloys to yield the best advantage for the product's use.
Metal stampings are used in a broad range of industries:
Aerospace products
Latches and other fastener type components
Exhaust system components
Agriculture

Housing components for testing devices
Hinges and frames for equipment
Appliances

Internal components
Handles and latches
Automotive parts stamping

Brackets
Exhaust system components
Hitches
Commercial/Residential

Components for garage doors
Clamps
Electrical covers
Handles
Construction and building supplies

Floor plates
Braces and connectors
Electronics

Components to hold hardware
Chassis or frames for various computer equipment
Circuit board components
Shielding devices
Fittings
Shells and sleeves
HVAC

Covers
Baffles
Separators
Brackets
Marine

Brackets
Connectors, fittings, couplings
Enclosures and housings
Frames
Decorative
Medical stamping

Portable medical carts
Medical computer stand components
Trays
Instrument connectors
Enclosures
Plumbing

Hangers
Clamps
Straps
Hooks
Safety plates
Stud shoes
Safety plates
Power Storage

Housing
Cabinets for electronic componentry
To expedite tooling design and ensure quality and mutual understanding, Walker International's engineers employ top-of-the-line CAD packages such as AutoCAD and Cadkey, as well 3D packages such as Pro E and SolidWorks.
Our manufacturers' stamping operations utilize precision metal stamping presses for such materials as beryllium copper, phosphorous bronze, stainless steel, and copper and cold rolled steel.
Importing metal stamping from a China manufacturer can be easy and seamless with support from an established international trade manager. Walker International will aid you in the communication, design, and shipping of your metal stamping needs.