China Fence Manufacturer Sourcing Agents
Importing Chain Link and other Fencing Systems from China
by Walker World Trade – International Trade Management Since 1936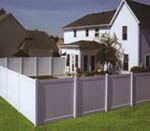 Import fence products from China with Walker World Trade.
Are you searching for a source of fence products and materials from China?
Call Walker World Trade at (248) 644-7700 today for your China fence product sourcing and logistics needs.
Save money by direct shipping commercial or residential fence products and fencing materials to your destination from our offshore factories in China.
Importers of China Fence Products and Materials Including:
Wire mesh
Welded wire mesh
Galvanized before
Galvanized after
Chain Link Fence, fittings

Vinyl Fence / PVC Fence
Barbed Wire & Razor Coil & Razor Ribbon
Gates & Gate Hardware
Aluminum fencing
Cedar Fence
How Importing Fence Products from China Works:
Depending upon whether you buy chain link, wire mesh, vinyl, wood or any other type of fencing, offshore manufacturers will usually require a minimum order quantity per type of fencing. That minimum order quantity could be 'rolls' (for example, wire mesh) or sets (such as vinyl fencing).
Terms from our offshore suppliers are 30% down payment with the order, and the balance upon notification of booking with the steamship carrier.
Walker will manage all ocean freight, United States Customs fees and filings, payment of duties and taxes and local delivery to your destination.
Step 1:
If possible, before you call, have the following information ready:
Complete description of the fencing you want
Material specifications
Measurements of relevant features
Pictures of the fencing you want to import
Step 2: Call Walker World Trade at (248) 644-7700. We'll discuss your project and learn about the product, and your goals, objectives, timetable, and target pricing.
Step 3: If there are no design and development services required, we'll send you information to the appropriate supplier. If you need design and development services, we'll send you a feasibility proposal that will outline everything you need to know about importing the fencing system of interest.
Why Walker World Trade?
Throughout our 76 years of international trade management Walker International has aligned itself with reputable, trustworthy, quality-conscious and experienced offshore fencing product and materials manufacturers in China.
Doing business for over 76 years, and over 100 trips to China and the Pacific Rim, results in developing relationships with offshore factories in a broad range of industries.
Our factories stand behind their product. And when you work with Walker's factories, whether in China or other countries in the Pacific Rim, or Europe, you know what you are getting, unlike searching the Internet for offshore factories that can place their ads in any search engine, and look 'good'.
Experience counts. We've got it. Others don't.
Call us at (248) 644-7700 or fill out the
Get Started here by completing this form  (B2B only)