CNC Automatic Lathe Computer Precision Metal Parts Manufacturing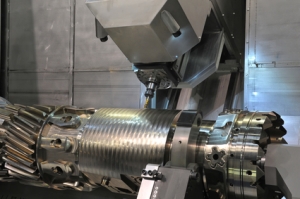 CNC computer precision machine tools are computerized (C), numerical (N), controlled (C) machines that often combine drilling, sawing, and other fabrication applications into a single machine or "cell" that is then controlled by computerization via manual or robotic management.
CNC systems are highly automated and use computer-aided design (CAD) and computer-aided manufacturing (CAM) programs. These programs produce a computer file that is employed to extract the commands needed to operate a particular machine via a post processor and are then loaded into the CNC machines for production.
Since any particular component might require the use of a number of different tools – drills, saws, and the like – modern machines frequently combine multiple tools into a single cell. Other applications use a number of different machines with an external controller and employ human or robotic operators that move the component from machine to machine.
Whatever the purpose of a CNC system, the number and sequence of steps needed to produce any part is highly automated and produces a part that closely matches the original CAD design.
CNC Automatic Lathe systems manufacture parts in a broad range of industries from technology to transportation to home improvement and produce components for:
Computers
Bicycles
Optoelectronics
Vehicles
Electronics
Communications
Bathroom hardware
Machinery
Pneumatic tools
Sports equipment
Buried screws and nuts
Materials used in CNC systems include:
Machining brass
Beryllium copper
Copper
Stainless steel
Free cutting steel
Alloy steel
Steel
Aluminum
Plastic and other materials
Fittings from China
Fittings made by CNC precision automatic lathes and rotary transfer machines are used to create quality connections for air, oil pneumatic, pipe, and motor brake applications. Standard products range from A/E Series to H, S, SB, SD, N, NG, L, P, and V series fittings and valves. OEM/ODM products of brass, copper, aluminum Stainless 303 for CNC lathing, milling, welding, lapping, and more are available.
Heavy Industry Products from China
Heavy industry products for application in the marine, trucking, oil, construction industries include shackles, turnbuckles, clips, thimbles, eye bolts, load binders, hooks, chains, wire rope, anchors, ratchet tie down, blocks, and other products.
It is possible to arrange the specialized manufacture of anchor chains for marine and offshore, aquaculture, rigging, mining, hoisting, bundling, and special custom chains and other supporting products in the marine industry.
Metal Fencing from China
Metal fencing can be procured in a variety of forms and combinations. It's possible to import this element from China in the following incarnations:
Hot dipped galvanized iron wire
Electro galvanized low carbon steel wire
Barbed wire
Steel guy wire
Black iron wire
Straightened cut wire
U type wire
Loop tie wire
PVD coated wire
Wire in small coil
Iron nail
Stainless steel wire
Brass wire
Stainless steel woven wire mesh
Security screens
Vibrating screens
Plaster metal and accessories screening
Architectural wire mesh
Walker International's manufacturers are ISO 9001:2008 international quality certified and provide high-quality innovative products compliant with RoHS environmental specifications. We not only provide domestic and international customers with the most sophisticated and competitive hardware products, but our services also include surface treatment, assembly, and other full-service processes.