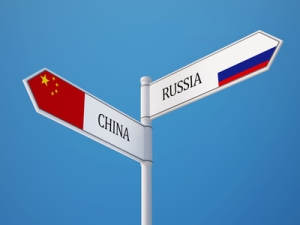 There is much talk about de-dollarization—the intent of nations to trade exclusively in local currency. Most recently, Iran and Russia announced their intention to do so, positioning themselves to be less affected by U.S. financial sanctions. What does this mean for international trade?
The fact remains that the U.S. dollar is still the preferred currency.  Both banks and corporations are showing interest in alternative currencies, but the U.S. dollar remains the most efficient, and the euro follows close behind.
Ruble-Yuan Currency Swap
In October 2014, the central banks of China and Russia signed a 3-year ruble-yuan currency swap deal up to $25 billion. The currency swap agreement, which appears has yet to be used, was designed to boost trade using national currencies while lessening dependence on the dollar and the euro.
Nations using exotic currencies are finding that there are few long-term effects—the dollar and euro simply work better because trading clients are more familiar with them. Russia, even with trade sanctions imposed on it by the U.S. and Europe, has no problem raising U.S. dollar financing. The fact remains that no one has been able to sell serious commodities in any other currency.
International trade experts predict that it be decades before local currencies are able to overtake the U.S. dollar (if they ever do).
What does this mean for your international business venture?
Managing the exchange of goods for money on a global scale can be complex. It certainly helps to have knowledge of foreign local markets—and that's where Walker World Trade can help.
WWT has been in the business of international trade since 1936. We have developed outstanding relationships and lines of communication between global importers and exporters and freight companies.
Before you delve into the complex world of international trade and finance, contact Walker for expert assistance.