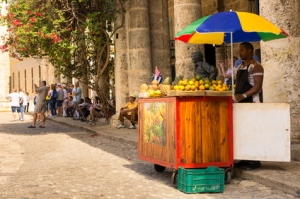 On Jan. 21, Gov. Andrew Cuomo announced plans to help small New York businesses kick-start exporting to established and emerging global markets. The governor is planning a number of 2015 trade missions to Cuba, as well as Mexico, Canada, China, Israel, and Italy.
Small Businesses in New York have Big Plans for the World
Cuomo's $35 million program will put $25 million in a lending program for small businesses with the intent to leverage $50 million in private lending in an effort to help these companies reach new markets. Another $10 million gives $25,000 to each company to establish exporting plans.
New York Wants Cuba's Business
Governor Cuomo's trade missions to Cuba will be among the first from the U.S. since the Obama administration relaxed travel and trade restrictions to the Communist-ruled nation. Lifting the trade sanctions will result in an influx of tourists the former Cold War enemy. (The U.S. embargo on Cuba is still in place. Obama continues to push Congress to lift it.)
The Caribbean island imports more than 80 percent of its food. In addition, Cuba's long-neglected infrastructure will need rebuilding. Small New York businesses hope to get a foot in the door and a chunk of the business thanks to Cuomo's ambitions. He's planning several missions to Cuba throughout the year.
Breaking into the export business is daunting. There is much to learn about languages, cultures, customs…  Fortunately, small business don't have to do it alone. And they don't have to add staff. The ideal solution is to turn over the management of the export business to an experienced and trustworthy international trade manager.
Walker World Trade has been in the export/import business since 1936. Contact WWT today.