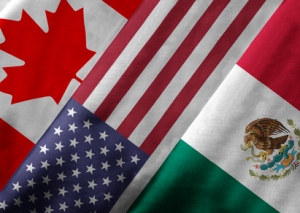 In 1994, the North American Free Trade Agreement (NAFTA) was put into force to create a trade bloc among Canada, Mexico, and the U.S. Twenty years later, NAFTA continues to divide proponents and critics.
What NAFTA Proponents Say
NAFTA supporters believe that the agreement ultimately creates more jobs in the U.S. During the five years following the institution of NAFTA, about 140,000 domestic jobs per year were created.
Proponents point out that trade liberalization contributed to the 48 percent increase in GDP from 1994 to 2005, which, in turn, positively impacted the unemployment rate.
Those in favor of NAFTA suggest that plant closings and lost manufacturing jobs were not the result of free trade. Rather, high-paying, low-skill jobs were unsustainable for long periods of time.
What NAFTA Opponents Say
Opponents view NAFTA as costly to the American workforce. As of 2010, nearly 700,000 U.S. jobs were displaced – moving from the U.S. to Mexico, thanks to a growing trade deficit.
Those not in favor of NAFTA argue that the trade balance (net exports) is more important than export-oriented job creation. In other words, increases in imports displace the production of goods that would have been manufactured by U.S. workers domestically.
NAFTA opponents also point out that more than 60 percent of exports to Mexico are not destined for consumption by the Mexican people. Rather, these exports end up in free trade zone manufacturing facilities in Mexico, where they are assembled and then shipped back to the U.S. as finished goods. And these products do nothing to promote U.S. jobs.
Making Sense of It All
With free trade, there are winners and there are losers. Learn more about how importing and/or exporting could impact your business. Walker World Trade has more than 75 years of experience in the international trade arena. Contact WWT today.