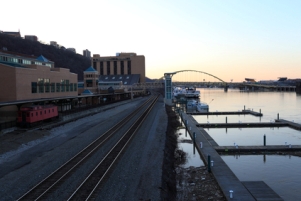 The International Trade Commission announced that six nations – India, Korea, Taiwan, Turkey, Ukraine, and Vietnam – dumped gas and oil pipe onto the U.S. market.
"A U.S. industry is materially injured or threatened with material injury by reason of imports of certain oil country tubular goods from [these countries]," the ITC said.
Dumping and Countervailing Violations
In response, the U.S. Department of Commerce will issue anti-dumping and countervailing duty orders on pipe from the six nations. In all, nine countries (the above, plus Philippines, Thailand, and Saudi Arabia) have been identified for sanctions by U.S. pipe producers. One of the producers, U.S. Steel, indicated that the dumped imports caused the temporary shutdown of McKeesport Tubular Operations.
"The dumped imports have caused material injury to the American market and the American worker," says Mario Lonhi, CEO of U.S. Steel. "Orders have been reduced, mills idled, and jobs have been lost." In the McKeesport plant alone, 160 laborers and 20 management employees have been affected.
Is It Too Late for American Producers?
"Unfair trade contributed to layoffs in places like Lorain, Ohio, and idled plants in Bellville, Texas and McKeesport," said Scott Paul, president of the Alliance for American Manufacturing. "The ITC's ruling will give steelmakers and workers a fair chance to compete in a strong market for the steel tube used to extract oil and natural gas."
But despite the International Trade Commission ruling, the McKeesport facility, which made its last standard pipe in mid-August, faces an "indefinite idling," according to U.S. Steel spokeswoman Sarah A. Cassella.
A Move in the Right Direction
This action is long overdue, according to U.S. Rep. Mike Doyle. "This is good news for American manufacturers and American workers," says the McKeesport congressman. "For too long, unfair dumping has been harming our ability to compete on a level playing field."
The steel industry has long played a leading role in the nation's economy but "cannot compete effectively against foreign producers who persistently engage in unfair trade practices," added Doyle.
More than 90 percent of unfairly traded imports entering the U.S. market in 2013 came from India, Korea, Taiwan, Turkey, Ukraine, and Vietnam.
Regulated international trade is fair international trade. Make sure products you import do not violate anti-dumping and countervailing laws. Contact Walker World Trade to discuss your import business with an expert.