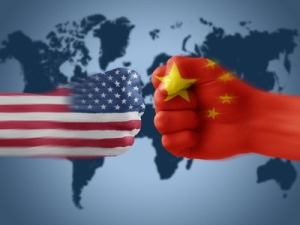 The richest country in the world, the U.S., is also the world's largest importer. In 2013, the nation bought $2.33 trillion worth of imported products. China, the world's second-richest country and second-largest importer, bought $1.95 trillion worth of imported products in 2013. So where, exactly, are these super-importers spending their money?
Top Imports: Unites States imports from China
Is it any wonder that American shoppers are so accustomed to seeing the "Made in China" tag on the products we buy? Nearly 20 percent of all U.S. imports (about $460 billion) come from China. The following round up the 10 most-imported goods from China:
Electronic equipment
Machines, engines, pumps
Furniture, lighting, signs
Toys, games
Footwear
Knit or crocheted clothing
Clothing (not knit or crocheted)
Plastics
Vehicles
Medical, technical equipment
Moving forward, the fastest-growing U.S. imports not included above are gums/resins, lead, food waste/animal fodder, iron/steel, and cereals.
Top Imports: China imports from the U.S.
As one of the world's largest exporters, and after a sluggish start in 2014, China is currently experiencing an all-time high trade surplus. The country imports goods and services from all over the world, and only about 8 percent of overall Chinese imports come from the U.S., specifically these top 10 items:
Electronic equipment: $22.9 billion
Machines, engines, pumps: $15.5 billion
Oil seed: $13.7 billion
Aircraft, spacecraft: $13.6 billion
Medical, technical equipment: $11.1 billion
Vehicles: $10.8 billion
Plastics: $6.3 billion
Wood pulp: $4.3 billion
Organic chemicals: $4 billion
Copper: $3.5 billion
This list may change significantly in the near future to make room for some of China's fastest-growing imports, including collector items/arts/antiques, cereals, dairy/eggs/honey, sugar, and meat and seafood preparations.
Growing Your Own International Business
Are you prepared to deal with China, either as an importer or an exporter? Walker World Trade has been in the import/export business for 78 years. We can answer all of your trade-related questions or simply manage the process for you. It's that easy.
Contact Walker World Trade today to discover just how easy (and lucrative) international trade can be for you.