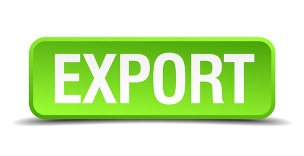 Exporting is an excellent opportunity for small businesses to increase sales and profit while stabilizing seasonal fluctuations.  According to government statistics, nearly 96 percent of consumers live outside the U.S., so it makes sense to go where the customers are.
Simply put, exporting is the business of shipping products that are made or sourced in the U.S. to other countries around the world. Are you ready to take advantage of the lucrative worldwide marketplace?
Getting Started
Beginning an export business involves a number of critical steps, including developing an export business plan, conducting market research, finding foreign buyers and financing the exports.  Walker's "On-Demand Export Services for Specialized Client Interests" can help you with every aspect of getting your product from the U.S. to your global customer's hands.
Walker's First-Rate Export Services
Walker's global network of freight forwarders and customs agents connect you with important export services:
Global airport-to-airport or seaport-to-seaport transport
Money-saving export groupage and consolidation
Specialized transportation for fragile, hazardous or refrigerated goods
Walker can even provide customs service and local delivery through our agents in offshore countries, but we recommend that you require your own clients in the offshore country to manage these logistics.
Call Walker World Trade today to learn how we can help you develop a successful, profitable export business.