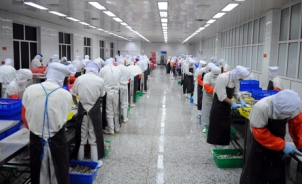 Successful businesses understand that sometimes the most cost-efficient location for manufacturing a product is a foreign country. Contracting out specific operations enables you to free up cash, time, facilities and staff to concentrate on the activities that your company does best.
It's a Smart Business Strategy
Taking advantage of primary geographic benefits makes sense. Lower wages of foreign employees reduce overall manufacturing and delivery costs, which is why foreign facilities often trump domestic factories.
In China, for example, the entire economy is driven by importing and exporting. The Chinese government is highly invested in developing an infrastructure for global sourcing, making the county a primary supplier of goods and services. With its focus on the import/export business, China has become a model of a low-cost economy that appeals to businesses around the globe.
Competition Improves
Exchanging goods along international borders encourages increased competition and more competitive pricing in the market. The end result of this competition is a more affordable product for the consumer. Additionally, the world economy – dictated by supply and demand – is improved, as goods become available to more consumers globally.
International Trade is Easier than Ever
Creating products, marketing the good and collecting payment for them are easier than ever, thanks to an overall reduction of global trade barriers. The internet has tremendously easy to advertise to foreign markets and do business internationally.
Expert Global Sourcing Agents Have Experience
Walker World Trade has been sourcing and importing quality, price-competitive products for more than 76 years. We've worked hundreds of inventors and entrepreneurs and service clients in manufacturing, wholesale, retail and public service. Walker can answer all of your global sourcing questions – contact us today to get started.